A new explanatory film from the IBU shows the methodology behind sustainable building certification
The term 'sustainability' seems to be on everyone's lips. However, it is frequently used selectively, and sometimes with an over-inflated meaning. Anyone who advertises their products as being 'sustainable' must be prepared to prove it. This is precisely what the construction materials industry is doing with their Environmental Product Declarations (EPDs), an important tool in the sustainability certification of buildings. The Institut Bauen und Umwelt e. V. (IBU), an association of construction materials manufacturers, has just released a new explanatory film that shows how EPDs are used in building certification.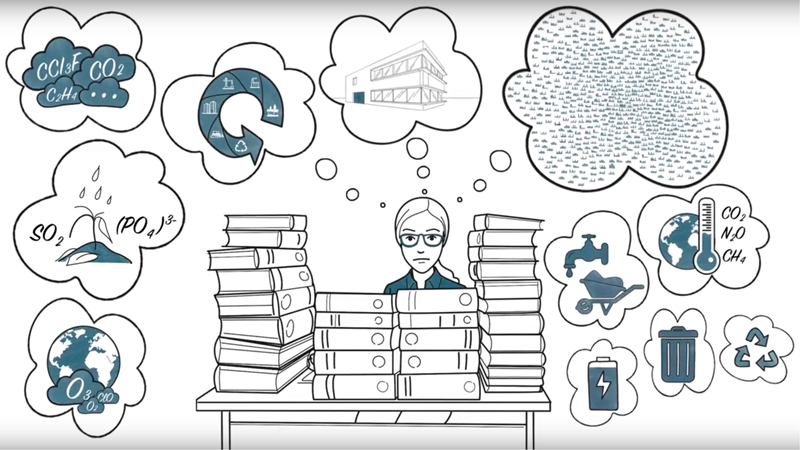 'The term "sustainability" cannot be reduced to an individual key indicator, such as CO-2 emissions', explains IBU Managing Director Burkhart Lehmann. Because 'the environmental impact of products that have been incorporated into a building only emerges as they interact with other building products in a specific building configuration'. Only when it is clear what is in each individual component, which resources have gone into every steel plate, every stone, every litre of paint, every kilogram of insulation, can the sustainability of a building be assessed. This is precisely what is made possible with Environmental Product Declarations. They document which raw materials, requiring which energy expenditure, go into a construction product and, from manufacture through useful life to disposal or recycling, what the environmental impact will be.
A variety of indicators are decisive in this process. Potential effects on the environment are evaluated, such as acidification and over-fertilisation of soil and water, ozone depletion, and potential greenhouse effect, as well as the resources used. The standardised, scientifically-based information available in the EPDs, verified by independent third parties, ultimately forms the basis upon which a decision can be made as to whether or not a building will be given a sustainability certificate. The new film shows, in an easily comprehensible way, the details of how this works.
'Integral planning is key', according to Burkhart Lehmann. This means that even in the design phase, builders, planners, and architects take into consideration ecological, economic, and social aspects, so that they can select the ideal combination of construction products and components. Lehmann continues, 'With the film, we wanted to show how the concrete life cycle balance data from our EPDs can be used for building certification. Anyone who watches the film should then be able to understand this complex topic much more easily'.
Under the umbrella of the IBU, more than 200 companies and associations have committed themselves to sustainable building, and together, in creating EPDs for their products, they ensure that ecological factors are taken into account in the sustainability assessment of buildings. With their membership, manufacturers of construction products, building components, and technical building equipment have taken a stand as pioneers in the area of sustainability.
You can watch the film here.