Pres­ti­gious Speak­ers Set the Tone for the IBU Annu­al Gen­er­al Meeting
For a soci­ety to become aware of its envi­ron­men­tal respon­si­bil­i­ties, it must have vision­ar­ies and pio­neers – includ­ing from among its busi­ness com­mu­ni­ty. This is the con­clu­sion drawn from the pro­gramme pre­sent­ed at this year's Annu­al Gen­er­al Meet­ing of the Insti­tut Bauen und Umwelt e.V. (IBU). The rea­son­ing behind this is that sus­tain­abil­i­ty can­not be enforced in top-down. In order to be able to meet the Agen­da 2030 tar­gets for sus­tain­able devel­op­ment, along with glob­al goals, not only gov­ern­ments, but also soci­ety at large and – espe­cial­ly – pri­vate busi­ness­es must com­mit them­selves to the cause. This is exem­pli­fied by the IBU's mem­bers, man­u­fac­tur­ers of build­ing prod­ucts and com­po­nents, who, for many years, have been tak­ing on this respon­si­bil­i­ty. Togeth­er, they have been pro­mot­ing the con­cept of sus­tain­able build­ing, for which they have gar­nered much praise.
From Resource Effi­cien­cy to a Cir­cu­lar Economy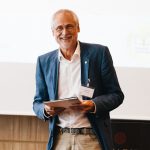 'We are mov­ing away from being an EPD asso­ci­a­tion and towards becom­ing a sus­tain­abil­i­ty data provider', announced Hans Peters, IBU Chair­man, as the meet­ing got under­way. In the future, the IBU is plan­ning to expand, with the aim of being able to pro­vide more infor­ma­tion on all con­struc­tion-relat­ed, sus­tain­abil­i­ty-rel­e­vant process­es and require­ments. In the area of sus­tain­abil­i­ty, stake­hold­ers and busi­ness­es that are involved in envi­ron­men­tal man­age­ment and who oper­ate in a cir­cu­lar sys­tem, make effi­cient use of resources, and dynam­i­cal­ly advance tech­nol­o­gy and digi­ti­sa­tion, are in demand. It was pre­cise­ly these top­ics around which the pre­sen­ta­tions from the five speak­ers revolved, as they pro­vid­ed their lis­ten­ers with a vari­ety of per­spec­tives on sustainability.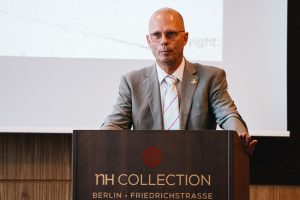 Dr Gün­ther Bach­mann, Gen­er­al Sec­re­tary of the Ger­man Coun­cil for Sus­tain­able Devel­op­ment, kicked the pre­sen­ta­tions off by pre­sent­ing the dif­fer­ent fields of activ­i­ty in which his insti­tu­tion is involved. The coun­cil is par­tic­u­lar­ly com­mit­ted to the imple­men­ta­tion of the Ger­man Sus­tain­abil­i­ty Strat­e­gy (DNS) and also sup­ports, among oth­er activ­i­ties, the Ger­man Sus­tain­abil­i­ty Award (DNP). With­in this con­text, he express­ly thanked the IBU for its par­tic­i­pa­tion in the DNP and the award­ing of the spe­cial prize for resource effi­cien­cy, which the IBU has done three times now. If Ger­man build­ing stan­dards are now mak­ing their way out into the world, then it serves as a con­tri­bu­tion towards imple­ment­ing the Sus­tain­able Devel­op­ment Goals (SDG) – the Agen­da 2030 glob­al sus­tain­abil­i­ty tar­gets – in and through­out Germany.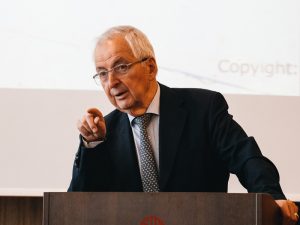 '"Focus­ing on the details. See­ing the big pic­ture". – I envy you this slo­gan,' accen­tu­at­ed Dr Klaus Töpfer, retired Ger­man Fed­er­al Min­is­ter for the Envi­ron­ment, Nature Con­ser­va­tion and Nuclear Safe­ty. With this slo­gan, the IBU has led the way, mak­ing a point of its com­mit­ment to sus­tain­abil­i­ty. The cen­tre­piece of Töpfer's speech was the con­cept of "build­ing for a future world that is home to nine bil­lion peo­ple". He appealed to his audi­ence to keep this com­plete world in their sights. Of par­tic­u­lar impor­tance to him in this con­text are resource effi­cien­cy, long-term prod­uct life cycles, and dynam­ic prod­uct devel­op­ment, as well as open bor­ders and mar­kets. "We will no longer be able to afford a lin­ear, throw-away econ­o­my." Prod­ucts with a short life cycle gen­er­ate an inor­di­nate amount of waste. This must be com­bat­ted and cir­cu­lar sys­tems must increas­ing­ly be imple­ment­ed. At the same time, "you can­not address an issue with­out being aware of the world you are liv­ing in". Using return­able bot­tles as an exam­ple, he under­scored the fact that mea­sures that might be appro­pri­ate in Ger­many can­not be imple­ment­ed in places like Africa, where water scarci­ty and poor hygiene are sig­nif­i­cant chal­lenges. With build­ings, which have a life cycle of more than half a cen­tu­ry, it is crit­i­cal to know exact­ly what goes into them and, in the face of the increas­ing­ly glob­alised con­struc­tion indus­try, to know, for instance, which build­ing prod­ucts would be suit­able for con­struc­tion projects in Africa.
Well-Found­ed Infor­ma­tion in Dig­i­tal For­mat: A Guide­book to Sustainability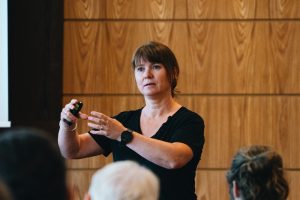 Trine Dyrstad Pet­tersen from Con­struc­tion Prod­ucts Nor­way turned the audience's atten­tion to a cur­rent pilot study, the Nor­we­gian Zero Emis­sions Build­ings project, which has shown that the "eco­log­i­cal ruck­sack" caused by CO2 emis­sions dur­ing con­struc­tion can be off­set by ener­gy gen­er­a­tion dur­ing the oper­a­tive phase of the build­ing and in the recy­cling process. Her pre­sen­ta­tion high­light­ed the sig­nif­i­cance of life-cycle assess­ment data, i.e. envi­ron­men­tal prod­uct dec­la­ra­tions (EPDs), as the basis for infor­ma­tion on the envi­ron­men­tal impact of indi­vid­ual build­ing prod­ucts. In cre­at­ing EPDs for indi­vid­ual prod­ucts or for entire prod­uct groups, com­pa­nies are fre­quent­ly inspired to become even more involved in the area of sus­tain­abil­i­ty. This has increas­ing­ly led to tak­ing process­es into account as well, so that these can be opti­mised along the entire val­ue chain.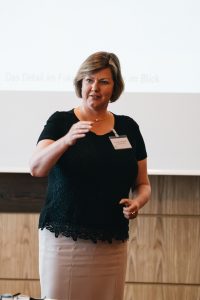 The Eco-Man­age­ment and Audit Scheme, or EMAS, is a tool employed by the Euro­pean Union to sup­port com­pa­nies and organ­i­sa­tions in both con­tin­u­ous­ly improv­ing their envi­ron­men­tal efforts and in com­mu­ni­cat­ing these. Dr Mar­i­anne Schön­nen­beck, Chair of the Ger­man EMAS Advi­so­ry Board (UGA), which has active­ly par­tic­i­pat­ed in the imple­men­ta­tion and expan­sion of EMAS, dis­cussed the var­i­ous sus­tain­abil­i­ty tools from both a prod­uct and an organ­i­sa­tion­al per­spec­tive. For a com­pre­hen­sive eval­u­a­tion of sus­tain­abil­i­ty in con­for­mance with the SDG, both of these per­spec­tives are nec­es­sary: the prod­uct-spe­cif­ic life-cycle assess­ment, which pro­vides stan­dard­ised, trans­par­ent, and ver­i­fied data, as well as an envi­ron­men­tal man­age­ment sys­tem that can val­i­date the entire system.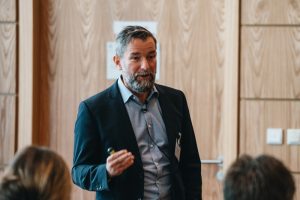 "In the area of digi­ti­sa­tion, the con­struc­tion indus­try still needs to catch up", cau­tioned Dr Alexan­der Rieck from the Fraun­hofer Insti­tute for Indus­tri­al Engi­neer­ing. One pos­i­tive devel­op­ment is that EPD data sets are now avail­able in dig­i­tal for­mat on the IBU.data and ÖKOBAUDAT data bases. How­ev­er, there is still a lack of com­mu­ni­ca­tion and inter­link­ing between all of the stake­hold­ers involved, from con­cep­tu­al­i­sa­tion to con­struc­tion, in a build­ing project. Due to the lack of avail­able labour, there is an increas­ing need for process­es to become auto­mat­ed. "We see arti­fi­cial intel­li­gence being used every­where, but not in con­struc­tion", Rieck explained, as he dis­cussed this untapped poten­tial. In the mean­time, the IBU is devel­op­ing a spe­cial prod­uct infor­ma­tion sys­tem that will enable man­u­fac­tur­ers to meet with the great­ly-vary­ing infor­ma­tion­al require­ments of all of the dif­fer­ent build­ing cer­ti­fi­ca­tion sys­tems, there­by sim­pli­fy­ing the plan­ning and eval­u­a­tion of sus­tain­able buildings.