Prestigious Speakers Set the Tone for the IBU Annual General Meeting
For a society to become aware of its environmental responsibilities, it must have visionaries and pioneers – including from among its business community. This is the conclusion drawn from the programme presented at this year's Annual General Meeting of the Institut Bauen und Umwelt e.V. (IBU). The reasoning behind this is that sustainability cannot be enforced in top-down. In order to be able to meet the Agenda 2030 targets for sustainable development, along with global goals, not only governments, but also society at large and – especially – private businesses must commit themselves to the cause. This is exemplified by the IBU's members, manufacturers of building products and components, who, for many years, have been taking on this responsibility. Together, they have been promoting the concept of sustainable building, for which they have garnered much praise.
From Resource Efficiency to a Circular Economy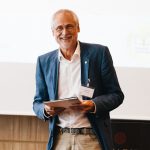 'We are moving away from being an EPD association and towards becoming a sustainability data provider', announced Hans Peters, IBU Chairman, as the meeting got underway. In the future, the IBU is planning to expand, with the aim of being able to provide more information on all construction-related, sustainability-relevant processes and requirements. In the area of sustainability, stakeholders and businesses that are involved in environmental management and who operate in a circular system, make efficient use of resources, and dynamically advance technology and digitisation, are in demand. It was precisely these topics around which the presentations from the five speakers revolved, as they provided their listeners with a variety of perspectives on sustainability.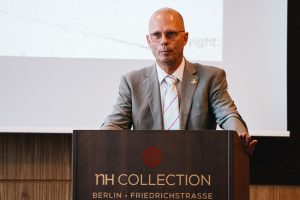 Dr Günther Bachmann, General Secretary of the German Council for Sustainable Development, kicked the presentations off by presenting the different fields of activity in which his institution is involved. The council is particularly committed to the implementation of the German Sustainability Strategy (DNS) and also supports, among other activities, the German Sustainability Award (DNP). Within this context, he expressly thanked the IBU for its participation in the DNP and the awarding of the special prize for resource efficiency, which the IBU has done three times now. If German building standards are now making their way out into the world, then it serves as a contribution towards implementing the Sustainable Development Goals (SDG) – the Agenda 2030 global sustainability targets – in and throughout Germany.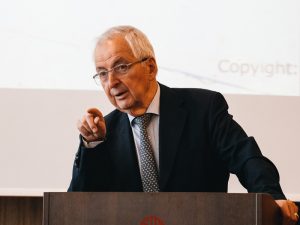 '"Focusing on the details. Seeing the big picture". – I envy you this slogan,' accentuated Dr Klaus Töpfer, retired German Federal Minister for the Environment, Nature Conservation and Nuclear Safety. With this slogan, the IBU has led the way, making a point of its commitment to sustainability. The centrepiece of Töpfer's speech was the concept of "building for a future world that is home to nine billion people". He appealed to his audience to keep this complete world in their sights. Of particular importance to him in this context are resource efficiency, long-term product life cycles, and dynamic product development, as well as open borders and markets. "We will no longer be able to afford a linear, throw-away economy." Products with a short life cycle generate an inordinate amount of waste. This must be combatted and circular systems must increasingly be implemented. At the same time, "you cannot address an issue without being aware of the world you are living in". Using returnable bottles as an example, he underscored the fact that measures that might be appropriate in Germany cannot be implemented in places like Africa, where water scarcity and poor hygiene are significant challenges. With buildings, which have a life cycle of more than half a century, it is critical to know exactly what goes into them and, in the face of the increasingly globalised construction industry, to know, for instance, which building products would be suitable for construction projects in Africa.
Well-Founded Information in Digital Format: A Guidebook to Sustainability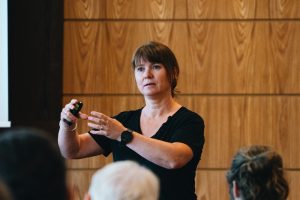 Trine Dyrstad Pettersen from Construction Products Norway turned the audience's attention to a current pilot study, the Norwegian Zero Emissions Buildings project, which has shown that the "ecological rucksack" caused by CO2 emissions during construction can be offset by energy generation during the operative phase of the building and in the recycling process. Her presentation highlighted the significance of life-cycle assessment data, i.e. environmental product declarations (EPDs), as the basis for information on the environmental impact of individual building products. In creating EPDs for individual products or for entire product groups, companies are frequently inspired to become even more involved in the area of sustainability. This has increasingly led to taking processes into account as well, so that these can be optimised along the entire value chain.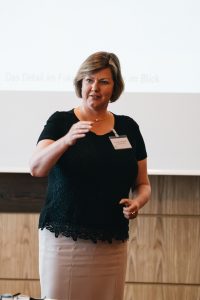 The Eco-Management and Audit Scheme, or EMAS, is a tool employed by the European Union to support companies and organisations in both continuously improving their environmental efforts and in communicating these. Dr Marianne Schönnenbeck, Chair of the German EMAS Advisory Board (UGA), which has actively participated in the implementation and expansion of EMAS, discussed the various sustainability tools from both a product and an organisational perspective. For a comprehensive evaluation of sustainability in conformance with the SDG, both of these perspectives are necessary: the product-specific life-cycle assessment, which provides standardised, transparent, and verified data, as well as an environmental management system that can validate the entire system.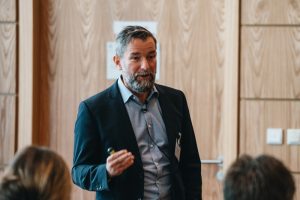 "In the area of digitisation, the construction industry still needs to catch up", cautioned Dr Alexander Rieck from the Fraunhofer Institute for Industrial Engineering. One positive development is that EPD data sets are now available in digital format on the IBU.data and ÖKOBAUDAT data bases. However, there is still a lack of communication and interlinking between all of the stakeholders involved, from conceptualisation to construction, in a building project. Due to the lack of available labour, there is an increasing need for processes to become automated. "We see artificial intelligence being used everywhere, but not in construction", Rieck explained, as he discussed this untapped potential. In the meantime, the IBU is developing a special product information system that will enable manufacturers to meet with the greatly-varying informational requirements of all of the different building certification systems, thereby simplifying the planning and evaluation of sustainable buildings.