Key Topics: IBU Programme Rules, LCI Data Sets, Data Quality, and Status of EPD Standardisation
In October 2017, the Institut Bauen und Umwelt held its second training programme for life cycle assessors and EPD creators, aimed at providing information on both new developments to EPD programme rules as well as on how to ensure the most efficient and highest quality verifications of IBU environmental product declarations possible.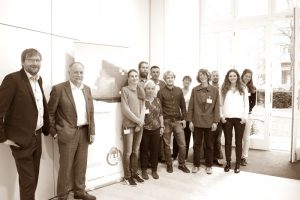 In his opening remarks, IBU Managing Director Dr Burkhart Lehmann reported on the newest developments as well as on current structures at the IBU. This was followed by a presentation by IBU staff member Stefan Zwerenz on the new EPD platform for digital EPDs, IBU.data, which was launched in June 2017.
The morning programme focussed on the parent document for all EPDs, the PCR Part A document, along with specific calculation rules for life cycle assessments and requirements for project reports in the IBU programme. Dr Eva Schminke, Chair of the IBU verifiers group and long-standing member of the Advisory Board, presented the significant key information contained in the currently valid PCR Part A and shared additional Advisory Board decisions that have relevance for life cycle assessors. Workshop participants also had ample time to pose questions and raise additional points of discussion with the experts. In addition to Dr Schminke, who also serves as convener of the CEN/TC 350's Working Group 3 (responsible for EN 15804), the seminar's panel of experts included Angela Schindler, an IBU verifier with many years of experience as a life cycle assessment expert.
The afternoon programme began with a presentation by Angela Schindler on the significance of the selection of background data sets, known as life cycle inventory data (LCI), for life cycle assessments and EPD creation, including where to look for the most meaningful criteria for data quality. Her conclusion: selecting appropriate LCI data sets for a life cycle assessment requires not only thorough research, but also methodological know-how, insight into the background information, and, most of all, experience.
Following this presentation, Dr Eva Schminke reported on the current status of the EC M/350's Amendment Mandates standardisation activities, which are aimed at aligning EN 15804 to PEF methodology, as well as on the status of the international EPD standard ISO 21930.
The seminar participants, made up of construction materials manufacturing professionals as well as life cycle assessment experts, welcomed the opportunity provided by the IBU training series to stay up-to-date on latest industry developments and, during targeted question-and-answer sessions, to obtain clarification of important details. At the same time, they also appreciated the opportunity for personal and professional exchange with one other and with the IBU experts. As a result of the positive feedback that IBU management has received about the seminar, they have announced the continuation of the training series.