PCR for Rails forming a track for vehicles
After the approval of the Advisory Board (IBU SVR) IBU has published a new PCR part B for Rails.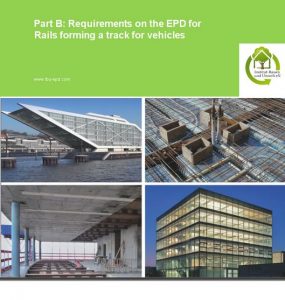 This document contains the Requirements on an Environmental Product Declaration (EPD) for the range of environmental product declarations published by Institut Bauen und Umwelt e.V. (IBU) based on the /EN 15804/standard.
The document applies for:
a bar of rolled steel forming a track for wheeled vehicles. This includes rails for railways, subways, tram, as well as light tracks (such as those used in mining) and crane rails. This PCR does not include other component of a railway such as base plates and sleepers, Regulatory standards depend on the type of rail and the geographical location
The requirements on the EPD include:
Requirements on the /EN 15804/ standard as a European core EPD,
Complementary requirements on IBU EPD
The calculation rules for the life cycle assessment and requirements on the project report are specified in a separate document as Part A of the Product Category Rules.
The general programme instructions for the EPD range of Institut Bauen und Umwelt e.V. (IBU) also apply.
You have access to all PCR Part B documents via the IBU EPD online tool www.epd-online.com.