PCR for Pumps for liquids and liquids with solids.
After the approval of the Advisory Board (IBU SVR) IBU has published a new PCR part B for Pumps.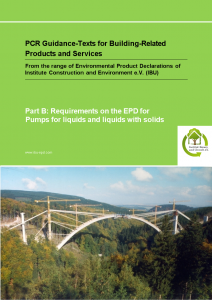 This document contains the Requirements on an Environmental Product Declaration (EPD) for the range of environmental product declarations published by Institut Bauen und Umwelt e.V. (IBU) based on the /EN 15804/standard.
The document applies for:
Pumps powered by an electrical motor for movement of any type of liquid, including liquids which transport solids
The requirements on the EPD include:
Requirements on the /EN 15804/ standard as a European core EPD,
Complementary requirements on IBU EPD
The calculation rules for the life cycle assessment and requirements on the project report are specified in a separate document as Part A of the Product Category Rules. The general programme instructions for the EPD program of Institut Bauen und Umwelt e.V. (IBU) also apply.
You have access to all PCR Part B documents via the IBU EPD online tool www.epd-online.com.