Memorandum of Understanding signed with France
Alliance HQE-GBC, as INIES database owner from France, and IBU (Institut Bauen und Umwelt e.V.) signed a memorandum of understanding (MoU) for Environmental Product Declarations (EPDs) on September 26th, 2017 during ECO Platform board meeting in Oslo.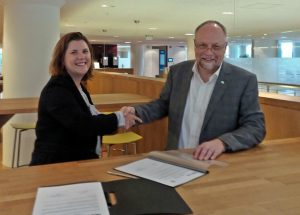 French program operator INIES has its own digital database, connected to LCA-buildings software. FDES are useful for calculating environmental building performance and are in high demand in France since the launch of an LCA building national experiment called E + C-.
In addition, it must not be forgotten that EPD are legally mandatory in France by law, if manufactures make environmental claims concerning their products in the French market.
German program operator IBU fosters the process of mutual recognition with European and international programs according to EN 15804. At the present time, INIES program will be the eighth.
The work is already starting for the German part. To have an IBU EPD in the French database, all it is takes to respect French standard. Beyond the requirements of the European standard EN 15804 for the EPD for construction products, French requirements are five additional impact indicators, the declaration of whole product life-cycle (cradle to grave) and be understanding by all French people. French EPDs contains also health information as indoor air emissions. All this information will be in the French annex put in IBU EPD.
So far IBU has achieved seven Mutual Recognitions with programme operators from Europe and the US. This mmeans, product manufacturers can register their EPDs on other markets without creating the EPD again or having it verified again.