STEICO SE
Address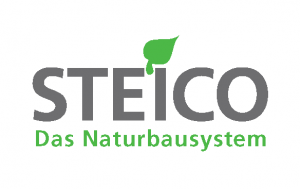 Otto-Lilienthal-Ring 30
85622 Feldkirchen
Contact
Michael Makas
Tel.: +49 89 991 551 34
Fax: +49 89 991 551 98
m.makas@steico.com
www.steico.com
Member since 2016
about the Member:
In January 2016 STEICO joined IBU, (Institut Bauen und Umwelt). IBU is well pleased that another company from the construction sectors shows its commitment to sustainability and welcomes the new member from the insulation material sector.
According to STEICO Group, they are the market leader in producing and selling wood fibre insulation materials. They have several locations within Europe and around 900 employees Europe wide: Their headquarters is located in Feldkirchen, near Munich and their goods are produced in Poland, in Czarnków and Czarna Woda, as well as in Casteljaloux in France. Furthermore, STEICO has two sales companies in Brumath, France, and St Albans, Great Britain.
Only recently, the company created an Environmental Product Declaration, EPD, for its wood fibre insulation products, which has just now been published by IBU. By creating an EPD, STEICO provides comprehensive information about their products and their environmental impact, which are required when planning and assessing the sustainability of buildings. All information from the EPD are based on standard DIN EN 15804, applicable to all kinds of construction products and services. IBU is the only organization in Germany operating an EPD programme for construction products across industry sectors, based on ISO and CEN standards and is known all over Europe. "IBU and its EPD Programme are well known throughout Europe. Furthermore, as an IBU member, we can now publish our EPD in ÖKOBAUDAT", explains Dr. Michael Makas, manager of the Research and Development Department at STEICO, and manager of Quality Management. ÖKOBAUDAT is a German database for construction materials, provided by the Federal Ministry for the Environment, Nature Conservation, Building and Nuclear Safety. There are more than 700 sets of data on construction products that are required for planning and life cycle assessment of buildings.
"EPDs contain large-scale documentation on the Life Cycle Assessment of a product and therefore allow a comprehensive outline. Many eco labels often only provide limited information about a product ", Makas explains. Wolfgang Stahl, manager Application Technology at STEICO, adds: "EPDs allow us to present the ecological and technological features of our products in a transparent way, as for example, raw material extraction, production processes, reference service life of a product within the building, re-use phase and recycling, as well as several other advantages resulting from using wood as raw material." Sustainability is a very important part of the company policy. STEICO says that they are the first manufacturer who had all their wood fibre insulation material certified by Forest Stewardship Council (FSC). Furthermore, STEICO is preparing to create more EPDs, both for      I-joists and veneer laminates.