SCHOTT Technical Glass Solutions GmbH
Address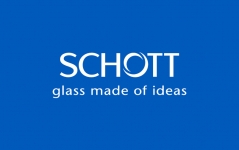 Otto-Schott-Straße 13
07745 Jena
Contact
Thomas M. Karschti
Tel.: +49 3641 681 4650
Mobile: +49 171 8643998
Fax: +49 3641 2888 9083
thomas.karschti@schott.com
www.schott.com/tgs
Member since 2015
about the Member:
As of 1st May Institut Bauen und Umwelt (IBU) welcomes SCHOTT AG as a new member from the glass industry. SCHOTT AG manufactures speciality glass and glass-ceramics for security glass, as for example, fire-resistant glazing or bullet resistant safety glass. The company has now created three Environmental Product Declarations (EPDs) for its products PYRAN® S, PYRANOVA® and Insulated Glazing, which are going to be verified at IBU by independent third parties.
Otto Schott founded the company in 1884 in Jena, Germany, and a few years later SCHOTT became part of the Carl Zeiss Foundation, founded in 1889. Since 1952 its headquarters is in Mainz and ever since SCHOTT has developed into an enterprise operating worldwide. SCHOTT ´s product range indicates that sustainability plays an important role at the company.  It manufactures components that are used to generate renewable energies, e.g., receivers for solar thermic power plants using parabolic mirror technology, and it further develops sustainable production procedures.  In 2010 SHOTT was awarded the "German Innovation Award" for its environmentally friendly, black CERAN® glass-ceramic cooktops, which do not contain the toxic heavy metals arsenic and antimony.
Now SCHOTT decided to create Environmental Product Declarations in order to have reliable and credible scientific evidence on the environmental impact of their construction products. "Our motivation was firstly, to comply with the specifications of the Construction Products Regulation, which is asking for proof of sustainability, and secondly, the highly recognized reputation and acceptance of IBU as a programme holder in Germany and Europe." explains Thomas Karschti, Senior Manager Standardization and Certification at SCHOTT in Jena. Furthermore, creating EPDs provides a competitive edge when handing in public tenders, especially tenders for the Federation or Federal States: "EPDs are therefore absolutely essential in order to be successful when participating in invitations to tender " explains Karschti. In the future SCHOTT is planning to create more EPDs for its safety glass in order to provide the required environmental data to fulfil market expectations. Planning consultant s, architects and building owners require these certified Life Cycle Assessment data when constructing a sustainable building. The performance of every single construction product results in the performance of the complete building.