British Precast Concrete Federation
Address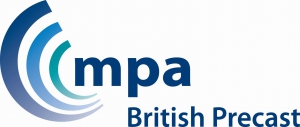 The Old Rectory, Main Street
Glenfield, Leicester LE3 8DG
UNITED KINGDOM
Contact
Hafiz Elhag, Sustainability Manager
Tel.: +44 1162325170
Fax: +44 1162325197
hafiz.elhag@britishprecast.org
www.britishprecast.org
Member since 2016
about the Member:
In February 2016 the British Precast Concrete Federation joined IBU (Institut Bauen und Umwelt). IBU is happy to welcome yet another Association from Great Britain that has committed itself to sustainability.
Tracing back its roots to 1918, British Precast Concrete Federation (short form: British Precast) is the trade association of precast concrete manufacturers in the UK, British Precast members manufacture a wide range of precast concrete elements. The main aims of the federation are to promote precast concrete, as well as providing and disseminating information on their materials and products. Only recently has the association developed their first Environmental Product Declaration for hollowcore precast floors. The declaration will be verified by an independent third party and will then be published by IBU.
Environmental Product Declarations (EPDs) contain comprehensive and detailed information on potential environmental impacts of a product. All information is both based on a Life Cycle Assessment and the European standard DIN EN 15804. The latter is valid for all kinds of construction services and products, providing the basis for valid EPDs Europe wide. IBU is the only organization in Germany operating an EPD programme for construction products across industry sectors, based on ISO and CEN-standards and is known all over Europe. Hafiz Elhag, Sustainability Manager at British Precast, explains, why the association has opted for IBU: "Currently, IBU operates the most established and reputable EPD programme in Europe. We also understand that IBU has always had a successful business relationship and understanding with our consultants: Thinkstep".
"For our association, sustainability is a major topic, second only to Health and Safety ", Elhag continues. Creating further EPDs for different products is being planned. "Features and characteristics of products are compiled and displayed in EPDs. They also provide comprehensive and precise information regarding potential impacts of the product, which leads to great credibility in the construction sector." Other advantages Elhag names, are projects, where Building Information Modelling is applied or where Building Certification Systems like BREEAM are involved: "By presenting EPDs, we can easily supply life cycle assessment and technical data about our products requested by the different sourcing schemes. Moreover, EPDs enable our members to take a closer look at their supply chains." British Precast is developing a number of association EPDs which uses product data representing most of its current product association members.