Mutual Recognition with The Norwegian EPD-Foundation
In the course of the Annual General Meeting of EPD Norge in June 2014 IBU's Managing Director Dr. Burkhart Lehmann and EPD Norge's Managing Director Dagfinn Malnes signed the contract for the mutual recognition of the two EPD-Programmes. With this declaration holders of EPDs verified by IBU can have their EPDs recognised in Norway by the Programme operator "The Norwegian EPD Foundation (EPD-Norge)" without having to undergo a further, comprehensive verification process.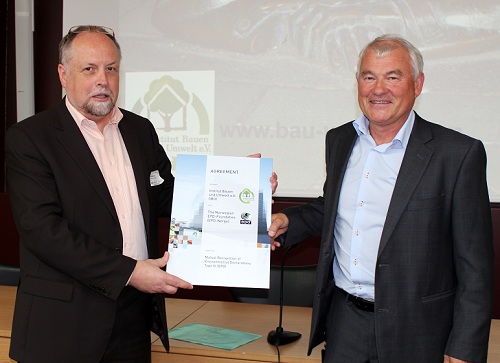 EN 15804 +A1 is the common basis for the mutual recognition. During the preliminary stages Anne R. Rønning for EPD-Norge and Dr. Eva Schmincke for IBU in particular, worked on determining the parameters for the mutual recognition of EPDs. In order to publish an IBU EPD in the Norwegian Programme, the EPD needs to be in English and additional information has to be compiled and added in an attachment.
Contact person for the realization of mutual recognitions: Frank Grootens