The independent Advisory Board of IBU
When developing and compiling Environmental Product Declaration (EPD) the IBU has to follow exact normative guidelines. In particular DIN EN ISO 14025 and EN 15804 are relevant. The fixed rules and standards define methods of calculating and assessing the effects of construction products regarding their whole life cycle. It is particularly important that an independent third party verifies that the IBU EDP program develops compliant to the current standards and state of the art. This task is performed by the Advisory Board (SVR) at the IBU.
The SVR consists of representatives of the The Federal Ministry for the Environment, Nature Conservation, Building and Nuclear Safety (BMUB), the Federal Environmental Agency (UBA), the Federal Institute for Materials Research and Testing (BAM), nature conservation organizations, scientists as well as life cycle assessment and standardization experts. During the meetings the documents of the Product Category Rules (PCR) are tested and approved. In addition, the SVR discusses numerous eco-balance issues. These relate in part to specific EPD projects. But also general concretizations valid for all PCR Part A product groups are made. The SVR itself appoints an independent third party (verifier) that checks the data required by the manufacturer.
The tasks of the advisory board are laid down in the statutes.
Members of the Advisory Board :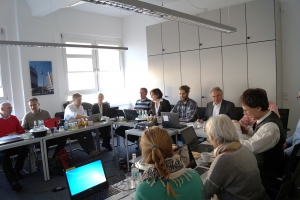 Dr. Frank Werner, Environment & Development Zürich (Obmann)
Til Bolland, UBA Dessau
Dr. Tanja Brockmann, BBSR Berlin
Dr. Antje Eichler, Hauptverband der Deutschen Bauindustrie e.V.
Prof. Dr. Matthias Finkbeiner, TU Berlin
Prof. Dr. Arno Frühwald, Zentrum Holzwirtschaft, Universität Hamburg
Dr. Bruno Hauer, TH Nürnberg
Prof. Dr. Oliver Jann, BAM Berlin
Dr. Eva Schmincke, DNR Tübingen
Prof. Dr. Heinrich Wigger, Jade-Hochschule Oldenburg