Institut Bauen und Umwelt e. V. is pleased to welcome the medium-sized, Bavarian company GLAPOR as a new member. GLAPOR uses 100% recycling glass for producing sustainable insulation material to insulate floors, walls, façades and roofs.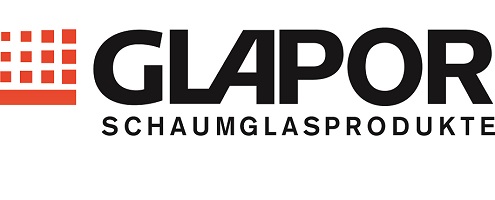 Using an innovative furnace technology, with furnaces developed by GLAPOR, the company has been producing cellular glass insulation material since 2017. Located in Mitterteich, Upper Palatinate, Germany, Cellular Glass Boards and Cellular Glass Gravel are produced parallelly. Both products are applied in new buildings, as well as in reconstructions of industrial and residential estates. GLAPOR promotes sustainability and it is the core of its company policy and philosophy. GLAPOR is both a member of DGNB (German Sustainable Building Council) and Schaumglasschotter (Cellular Glass Gravel Association), wanting to promote and meet the standards of sustainability.
Efficient production from cradle-to-grave
Using a modern production method that does not melt the raw materials at 1.600 °C, saves energy right from the beginning. Only 100% recycled glass is used, foamed by heating with organic activators in a continuous furnace. The result is a highly robust construction material produced from a fragile raw material. Cellular glass gravel products are highly pressure-resistant, vapour-proof and fire resistant. Furthermore, capillary action is rendered impossible. Cellular glass gravel products are also resistant to rodents and insects.
By combining cellular glass gravel and cellular glass boards, customized solutions can be developed and offered to the customers. Since the product is light, energy can be saved in transport and construction. Cellular glass gravel products have a long service life and can be use as recycling material after dismantling. High disposal costs are reduced.