EPD Special Edition: Focus on Building and the Environment
Together with the Schiele & Schön Publishing House, the Institut Bauen und Umwelt e.V. (IBU), took advantage of the occasion of the BAU 2017 trade fair to present an EPD special edition of the journal greenBUILDING.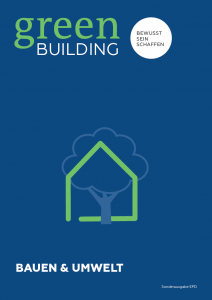 For over thirty years, IBU and its approximately 200 members – manufacturers of building products from across the entire industry – have committed themselves to the principle of environmentally-friendly and sustainable construction. The tool that they rely on for this – Environmental Product Declarations (EPDs) – are the focus of this special edition, which examines EPDs from a wide variety of perspectives, ranging from building planning to demolition.
In a multi-faceted series of articles, the publication provides examples of the great variety of ways in which EPDs are used, such as for different building certification programs, as well as providing information about the IBU EPD programme and relating practical examples from the experiences of individual manufacturers.
The publishers of greenBUILDING find the building product manufacturers' commitment to using EPDs as a way of making their life cycle key data public to be laudable and essential. In 2016, out of a desire to further foster this tool, greenBUILDING became a supporting member of the IBU. This collaboration has led not only to the current publication, but also to a joint presentation at BAU 2017 in Munich, where, from 16-21 January, IBU and greenBUILDING warmly invited trade fair visitors to stop by their stand in Hall B0.
IBU and greenBUILDING are sure that you will find the EPD special edition to be an interesting read. The publication may be viewed (in German) here.
Printed copies (up to 25) may be ordered via the IBU office until February 10, 2017.