IBU wel­comes new mem­ber in the build­ing ser­vices sector
The mem­ber­ship ranks at the Insti­tut Bauen und Umwelt e.V. (IBU) con­tin­ue to expand: Grund­fos, a lead­ing devel­op­er and man­u­fac­tur­er of sus­tain­able pump solu­tions, has joined the IBU.
For Hans Peters, Chair­man of the IBU Board, the addi­tion of this inter­na­tion­al man­u­fac­tur­er of water-sav­ing and ener­gy-effi­cient pumps rep­re­sents a key step for the IBU EPD pro­gramme: Grund­fos is the IBU's first mem­ber from this pre­vi­ous­ly unrep­re­sent­ed group with­in the build­ing ser­vices sector.
"As a well-known, world­wide rep­re­sen­ta­tive of the build­ing ser­vice sec­tor, respect­ed for its ener­gy-effi­cient prod­ucts, Grund­fos as a new IBU mem­ber brings us clos­er to our key aim of com­pre­hen­sive, trans­par­ent and cred­i­ble infor­ma­tion trans­fer," he states.
License to sell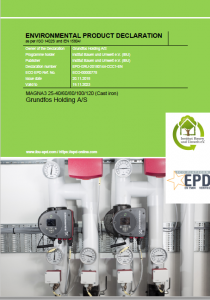 Cus­tomers are increas­ing­ly call­ing for ver­i­fied envi­ron­men­tal infor­ma­tion and to meet the demand, Grund­fos as a new IBU mem­ber has pub­lished its first Envi­ron­men­tal Prod­uct Dec­la­ra­tion (EPD) for its MAGNA3 cir­cu­la­tor pump used in heat­ing sys­tems. Math­ias Høeg, Senior Life Cycle Assess­ment Spe­cial­ist, con­sid­ers it an impor­tant step for Grund­fos to be able to doc­u­ment the life cycle envi­ron­men­tal foot­print of its prod­ucts in a stan­dard­ized way.
"This will undoubt­ed­ly be our "license to sell" in many mar­kets, and by work­ing sys­tem­at­i­cal­ly with life cycle assess­ment method­olo­gies in our prod­uct devel­op­ment process­es, we will have prod­ucts ready to meet future require­ments," he says.
A pas­sion­ate and sus­tain­able company
Grund­fos is a full-range sup­pli­er of water and ener­gy-effi­cient pump solu­tions for heat­ing, air con­di­tion­ing and ven­ti­la­tion, water sup­ply, drainage and waste water trans­porta­tion — for res­i­den­tial and com­mer­cial build­ings as well as for indus­tri­al use. As a pas­sion­ate and sus­tain­able com­pa­ny, it is deter­mined to strength­en the UN's Sus­tain­able Devel­op­ment Goals 6 (Clean Water and San­i­ta­tion) and 13 (Cli­mate Action) and at the same time do busi­ness by devel­op­ing, pro­duc­ing and sell­ing sus­tain­able pump solutions.
"One of our impor­tant prod­uct advan­tages is the built-in elec­tron­ics, which turn our pumps into intel­li­gent and demand-dri­ven sys­tems that can sig­nif­i­cant­ly reduce ener­gy and water con­sump­tion. It is impor­tant to us, that we are able to doc­u­ment these prod­ucts per­for­mances in a trans­par­ent way, and our next IBU EPDs are already in plan­ning," says Math­ias Høeg.
An esti­mat­ed 6.6 bil­lion kWh of elec­tric­i­ty has been saved in 2017 due to the high-effi­cien­cy Grund­fos cir­cu­la­tor pumps sold in the EU.