IBU welcomes new member in the building services sector
The membership ranks at the Institut Bauen und Umwelt e.V. (IBU) continue to expand: Grundfos, a leading developer and manufacturer of sustainable pump solutions, has joined the IBU.
For Hans Peters, Chairman of the IBU Board, the addition of this international manufacturer of water-saving and energy-efficient pumps represents a key step for the IBU EPD programme: Grundfos is the IBU's first member from this previously unrepresented group within the building services sector.
"As a well-known, worldwide representative of the building service sector, respected for its energy-efficient products, Grundfos as a new IBU member brings us closer to our key aim of comprehensive, transparent and credible information transfer," he states.
License to sell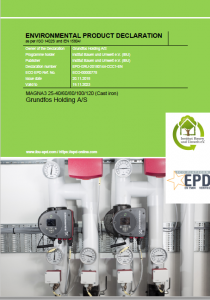 Customers are increasingly calling for verified environmental information and to meet the demand, Grundfos as a new IBU member has published its first Environmental Product Declaration (EPD) for its MAGNA3 circulator pump used in heating systems. Mathias Høeg, Senior Life Cycle Assessment Specialist, considers it an important step for Grundfos to be able to document the life cycle environmental footprint of its products in a standardized way.
"This will undoubtedly be our "license to sell" in many markets, and by working systematically with life cycle assessment methodologies in our product development processes, we will have products ready to meet future requirements," he says.
A passionate and sustainable company
Grundfos is a full-range supplier of water and energy-efficient pump solutions for heating, air conditioning and ventilation, water supply, drainage and waste water transportation – for residential and commercial buildings as well as for industrial use. As a passionate and sustainable company, it is determined to strengthen the UN's Sustainable Development Goals 6 (Clean Water and Sanitation) and 13 (Climate Action) and at the same time do business by developing, producing and selling sustainable pump solutions.
"One of our important product advantages is the built-in electronics, which turn our pumps into intelligent and demand-driven systems that can significantly reduce energy and water consumption. It is important to us, that we are able to document these products performances in a transparent way, and our next IBU EPDs are already in planning," says Mathias Høeg.
An estimated 6.6 billion kWh of electricity has been saved in 2017 due to the high-efficiency Grundfos circulator pumps sold in the EU.