Documenting Environmental Criteria in Public Tenders
Green Public Procurement (GPP), an environmentally-conscious approach to purchasing, is a valuable tool for ensuring that environmental criteria weigh in more heavily in the construction industry. This option has rarely been put in practice until now, however, since contracting organizations have been uncertain as to how to formulate legally-compliant environmental requirements for construction products.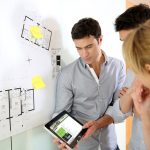 An article by Diana Fischer (owner of a Krefeld engineering firm), published online recently in the German journal Deutsches Architektenblatt, discusses the legal foundation for including environmental criteria in public tenders and explains how environmental product declarations (EPDs) can be utilised in both preparing and reviewing tenders.
The complete article has been published online (in German) by Deutsches Architektenblatt.