Stiferite Srl
Address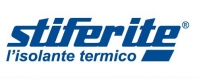 Viale della Navigazione Interna, 54
35127 Padova PD
ITALY
Contact
Fabio Raggiotto, Technical Manager
Tel.: +39 3486706963
Fax: +39 049774727
fraggiotto@stiferite.com
www.stiferite.com
Member since 2016
about the Member:
In June 2016 the Italian company Stiferite Srl joined Institut Bauen und Umwelt e.V. For all its products, the manufacturer of foam insulation panels has decided to create Environmental Product Declarations that will be verified and published through IBU.  IBU is well pleased to welcome yet another international company that is committed to sustainability.
Already in the 1960s, Stiferite developed solutions for thermal insulation in the construction and industrial insulation sector. The company, whose headquarters are in Padua, Italy, especially focuses on low thermal conductivity and excellent fire reaction properties when manufacturing their polyurethane rigid foam insulation panels.
"We focus on functionality at a high quality level when developing and optimizing our products," explains Fabio Raggiotto, Technical Manager at Stiferite, "but we never neglect our commitment for the environment and sustainable construction." Already at an early stage in their company history Stiferite began to create Life Cycle Analysis studies for many of their products.  Through the EPD System, the Swedish Programme Holder, Stiferite was among the first insulation material manufacturers to publish an EPD for polyurethane rigid foam insulation panels. EPDs contain neutral statement on the environmental impact of construction products. Furthermore, they are also a scientific data basis for building certification in regard to the ecological and technical quality of construction products. Stiferite has now decided to publish EPDs for their entire product range at IBU. "By creating EPDS within the IBU Programme we can further optimize our products regarding sustainability and decrease weak points within our production process. ", explains Raggiotto. The Programme holders, –IBU and International EPD System –  have mutually recognized their EPDs, meaning, that EPDs published by IBU are also available on the Swedish market, and vice versa. So far, IBU has reached mutual agreements of recognition with altogether five different Programme Holders.
IBU is the only organization in Germany operating an EPD programme for construction products across industry sectors, based on ISO and CEN-standards. All information is based on the European standard DIN EN 15804, which is valid for all kinds of construction services and products, providing the basis for valid EPDs Europe wide. Therefore, the Construction Products Regulation (CPD) recommends IBU EPDs. IBU is the first programme holder to have implemented the guidelines of DIN EN 15804 in Europe.
"Sustainable construction is also important to our customers. We can maintain being the market leader in the Italian construction sector and expand ", adds Raggiotto. The company intends to create EPDs for all their future products, in order to guarantee a fair and transparent communication with the market.