STUDIENGESELLSCHAFT FÜR STAHLSCHUTZPLANKEN e.V.
Address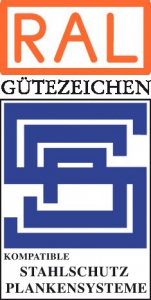 Spandauer Str. 25
57072 Siegen
Contact
Tel.: +49 271 53038
Fax: +49 271 56769
info@guetegemeinschaft-stahlschutzplanken.de
www.guetegemeinschaft-stahlschutzplanken.de
Member since 2016
about the Member:
At the beginning of 2016, the Institut Bauen und Umwelt e.V. welcomed an additional organisation from the metal industry as an associate member of the Institut, the Studiengesellschaft für Stahlschutzplanken e.V.
The Studiengesellschaft für Stahlschutzplanken e.V. was founded in 1961 as a merger of manufacturers in the steel road safety barrier industry, with the goal of improving traffic safety through continual improvements in quality assurance and technical developments. The Studiengesellschaft is a member of the Industrieverband Stahlverarbeitung e.V. (Industrial Association for Steel Processing) and the Industrieverband Straßenausstattung e.V. (Industrial Association for Road Equipment).
At present, the Studiengesellschaft für Stahlschutzplanken is developing EPDs for Super Rail Eco and other protective steel barrier systems, and is having them verified by independent third parties through the IBU. The goal of the creation of these EPDs was, in particular, to show the durability, recyclability and life cycle cost advantages of protective steel barriers, as well as to illustrate their ecological footprint. 'In the past, the sustainability of steel road safety barriers was always an important argument in the competition with other building methods. With the EPD, there is now proof of the advantages', said Managing Director Dipl.-Ing. Volker Goergen in justifying the decision to create the EPD. The market prominence and international acceptance of the IBU were decisive in the selection of the IBU as the program operator for the creation of EPDs. Goergen continued: 'Besides the verification and publication of the EPDs, we particularly appreciate the connection to ÖKOBAUDAT, the large visibility that comes from being a part of the IBU, and the IBU's great network. Our membership and the soon to be released EPDs strengthen not only the positive image of the Studiengesellschaft with our clients, but also promote understanding of the environmental advantages in our product life cycle, as compared to competitor products'.