Revigrés – Industria de Revestimentos de Grés, Lda.
Address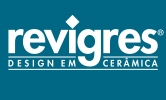 Apartado 1
3754-001  BARRÔ – AGUEDA
PORTUGAL
Contact
Nuno Mano
Tel.: +351 969775176
Fab.nunomano@revigres.pt
www.revigres.pt
Member since 2016
about the Member:
Since 1977, Revigrés has been producing ceramic tiles, specializing in floor and wall coverings, both for interior and exterior use for public and residential areas. According to Revigrés, their guidelines are combining design, innovation, quality and service with a stringent environmental protection policy that is followed for all company projects. Furthermore, the company also engages in playing an active role creating a more sustainable future. Producing high quality ceramic tiles that excel with their longevity and low maintenance requirements, contributes to a sustainable solution. At the same time, a high percentage of recycled materials are used and environmental impacts are reduced throughout all production processes.
So far, EPDs have already been created for three different product lines and Revigrés has them now tested and verified by the EPD Programme of IBU, before they will be published. According to Nuno Mano, responsible Head of Laboratory at Revigrés, creating another EPD for a different product line is at the planning stage.  "IBU is renowned, especially regarding efficiency, expertise and transparency,"  Mano explains the reason for joining IBU. "But also IBU's international reputation played an important part when deciding to become a member." The Portuguese manufacturer will use these newly created EPDs in their sales and marketing, both for their business clients and end-consumer communication.